Headed south to Aswan today. Saw the temple at Dendara (very cool) and also Kom Hombu (less cool). Was still not feeling great until about 2 o'clock when it felt like a switch had been turned and I was feeling completely better. Thank goodness!
Then headed further south and saw the Aswan Dam (I dunno, a dam is a dam right? I don't get what the attraction is in seeing one) and now I can say I saw the Aswan Dam. The dam that gave the Met the Temple of Dendur! Anyhoo on the way back I just had to, a yup, I stopped at McDonalds! Yes folks I did. Although I think whatever I ate there made me sick for the rest of the night. I did find something very interesting there a McD's Egypt towel and I just had to get it! (see below)
The thing about that experience is that it was perhaps the best experience among the local people I have had since I've been here! They were happy to see us they posed for pictures. The Manager even changed the menu so i could get extra pictures etc. And the gal even posed with the Zim Air passengers for me!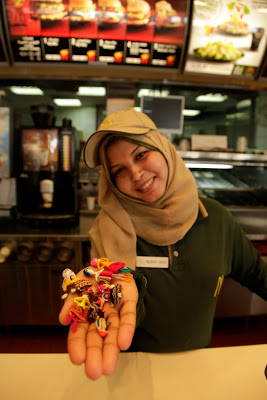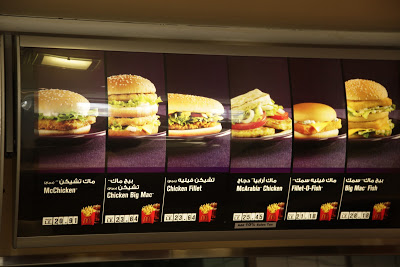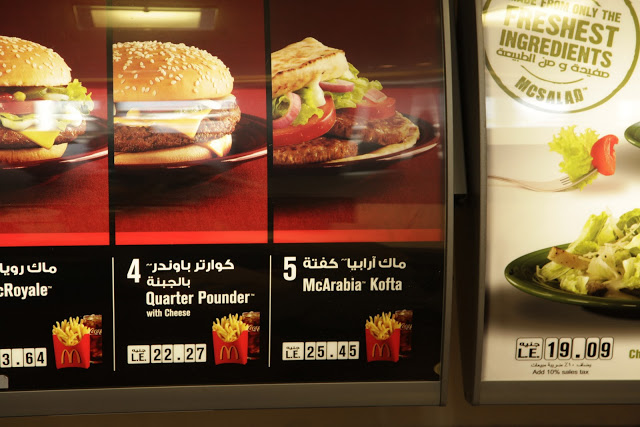 please no comments on the leg. I had to steady myself ok?