Another day another observation. I have come to find that the Turks (at least in Istanbul) do love cats here. There are pharoah cats EVERYWHERE you go. And clearly the people here don't mind them, as a matter of fact they seem to provide endless amounts of entertainment for everyone!
The other big observation? They love tea, coffee and honey. All day long you will see tea being delivered to shop keepers everywhere. And the vast majority of their desserts have honey. Today I had what looked exactly like a Churro. You know those long doughy cinnamony things you get at amusement parks? And most often it is thought to be Mexican of origin (but i think it's actually from Spain)? well We saw someone selling these on the street and guess what? Forget the sugar, forget the cinnamon. Just soak it in HONEY! oh yes, it was yet another HONEY BOMB! WOW, talk about a jolt of sugar! Here's a picture of me with the thing!
This is a video clip of the Grand Bazaar. What you see is less than 20% of the market.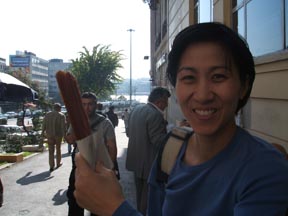 Download Video grand bazaar