This morning again began with a pre-dawn call. Got out to Love Valley to see this site:
After several hours of shooting it was back to the hotel for breakfast then off for a "short hike". The driver suggested that we get dropped off on the top of this canyon (Pigeon Canyon) and hike down to the bottom where he would pick us up. As soon as we started our decent it was clear to me that there was going to be some spectacular sights and it turned out to be an experience I will never forget. The valley was lined with Fairy Chimneys (see image below) and throughout the canyon were wild grape vines, apple trees, apricot trees and several other edible fruits I don't know the name of. About 1 hour into the trip and stopping for lunch a cat met us on the trail and walked with us for nearly an hour on the trip. It was about then that we took the wrong turn. In hindsight it would seem that the kitty was actually trying lead us in the other direction but we stayed the course and he reluctantly followed. Just about the time when it became really clear that we were lost the cat left us… hmmm.
At this juncture the valley dropped again. I can not tell you the feeling when I walked up to the edge. Here is a clip. That's me in the background waiving.
As we tried to descend it became clear that there was no way down from where we were standing: we had taken a wrong turn. About 100 meters prior to this we had passed a man who seemed to be living in the valley. In Mike's rough Turkish we convinced him to show us the way back to Pigeon valley… but instead of back tracking he took us on a short cut… which meant walking up and over this ridge: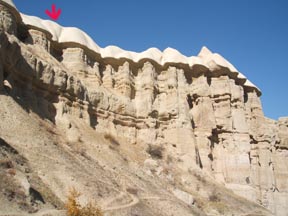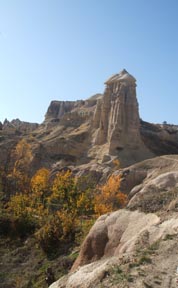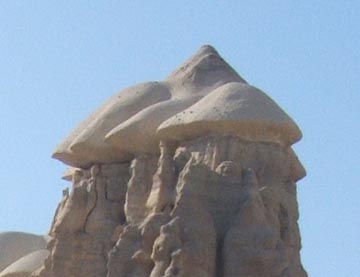 When we got to the top, and I almost didn't make it because I couldn't get a grip on the very soft 30 degree surface, he sat us down to have a smoke. There are no pictures of this because I was terrified and couldn't figure out how we were going to get back down; any awkward movements meant I was going to go flying off either side. (the top was less than a foot wide – barely enough to put my feet side by side). Obviously I managed to get down with this man's help but it was all I could do to convince myself not to look down!
As if that wasn't enough fun, at the end of the trail (which is the edge of a small town) we ran into two women who had plastic grocery bags filled with fresh picked apples and fruit. They had walked into the valley (obviously) and now they were heading home. The four of us happened to be walking out of the valley at the same time and they stopped for a break at the place where we had made arrangements for a pickup. While waiting Mike heard one of them say in Turkish, "Maybe we get him to carry one of these bags." And they both started laughing. When Mike turned around and said in Turkish, "How far do you have to go?" They first stopped in their tracks, responding "really?". In the end we offered them a ride. Needless to say they were very happy. So here is the picture of them in the back of the car. That's me on the right side.