Again I got up early today and was on the road by 5. As it was overcast yesterday morning I figured there was no reason to get out any earlier than that. Wellll… I was wrong. The sun actually showed itself today but on the other hand the spot I went to was not open until 6, when the sun is a bit too high for my taste.
So what did I do today? First I went to Prambanan, home to a complex of temples divided into two sites. On the main site the largest temple is about 4 stories high and built of volcanic rock. Unfortunately tourists are not allowed to enter 3 of the largest and most impressive temples. Why? I'm not sure. One is clearly under renovation (due to the earthquake several years ago). The others? I just dunno. Although still somewhat impressive, about half of the other site is in pretty bad condition and there was not much to see. So after that it was into the market for some breakfast; here's a clip of that:
Then off to Rotu Boko temple. Due to the hefty entrance fee, I was looking forward what to seeing what was in store. Unfortunately about 80% of the site was also just piles of rubble. In other words I saw piles of square rocks which were once impressive buildings – so they tell me. Then I got eaten alive by mosquitoes! As I had not planned on coming here, I have not thought about that little thing called MALARIA! So I just checked the internet for some information and this is what I found: There is no risk in Jakarta, resort areas of Bali, or the island of Java, except for the Menoreh Hills in central Java. So I'm thinking to myself, "Hmmmmm, central Java……central Java, central Java? Where am I? google search, google search, google search -SHIT I'm in central Java; SHIT Yogyakart is IN the Menoreh Hills?" Did I mention that it was a last minute decision to come here and until a couple of days ago I couldn't have found this place on a map? I guess I be looking for some Mefloquine tomorrow eh?
Well on with today's events. From Boko I headed south. I wanted to go to the Royal Cemetary. My driver (a new one spoke a little English, and by little I mean little) instead took me to the "Silver Village" where they make traditional silver jewelry. Obviously there was some serious confusion but fortunately it was in the same direction and was just further up the road.  After we got there to the site, I walked about 200 yards and faced this.


It's not so bad right? But did I mention that I had already walked up a hill to get to Boko? Well at the top of that, I was faced with this: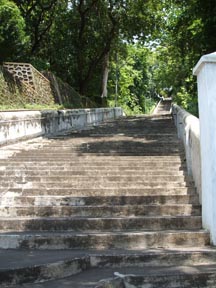 Did I mention that I had gotten up early… AGAIN, and that I'm fighting a cold? arrrg.  I bought a bottle of Pocari Sweat and headed up. Once I got to the top there was still another 40 steps or so into the grounds but when I got to the main gate, there was this: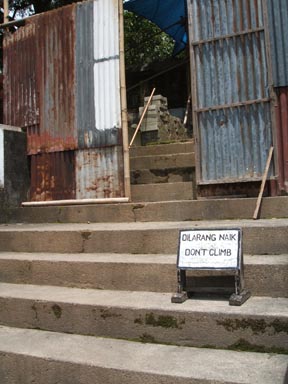 The site was closed for reconstruction. With not much else to do I walked around the complex to see if i could get a glimpse in. But no luck. Instead I saw this behind the complex: (if you listen closely you will hear the murmur of morning prayers from a couple of different mosques in the valley.)
I have only spent 2 full days here and have already run out of things to do. I've seen all the major and minor temples and historical sites. The mosques here are not like those in Turkey; they are very modest here. The tourist information office and the hotel concierge are unable to suggest anything else to do, other then going to the beach (1 hr drive) or going up to the mountain. With 3 days left I think I'm going to just  relax for the rest of today and tomorrow and give my body a break; perhaps I might be able to kick this cold. Then I'll head up to the mountain and overnight in at Borobudur to try to catch another sunrise and sunset.