Remember Photo Tip #9? "Bigger is Not Better"? My advice here for the most part is the same… sort of. A lot of people ask me about buying these mongo zoom lenses like 18mm-300mm or something like that. The rule of thumb for YEARS has been, do not buy zoom lenses that are more than 2-2.5x. Why? because glass quality goes down. Below is an example.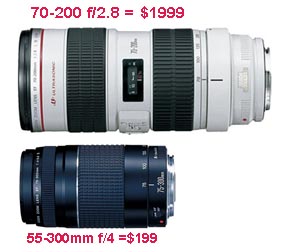 Although the lens on the bottom has a much longer range it is literally 1/10 the price, about half the size, and 1/4 the weight . You have to wonder about this.  Why would they make such a behemoth of a lens for us pros to break our backs with? Here's why, in order to get the lens quality that we demand along with great light gathering capabilities you have to put in a lot of glass and it has to be bigger to do it, and therefore the price goes through the roof.  So is bigger better? In this instance yes, but with qualifications. The physical size is bigger but the specifications are smaller (less zoom). This is often true with a fixed focal length (non zoom) lens too. * The bigger lens is also heavier and therefore more painful on your back.
Most of you are not buying DSLR's so how does this relate to buying point and shoot cameras? Stay with me here, I'll get to that.
The next question is what range is good for  you? Most people who take pictures on vacation or just day to day like to shoot landscapes, their personal environments and people at a very close range (like in the kitchen or living room), which means you really want a WIDE angle lens.  Speaking in 35mm equivalents**, IMHO I think if you can get something shorter than a 28mm lens you are doing well.  So what about the zoom? Again, IMHO I don't think it matters. Just remember that the longer it is the bigger the camera. The point of a point and shoot is that it is compact and easy to carry; which means you'll take it everywhere and actually take a few pictures! A point and shoot will pretty much never give you as much zoom as your imagination would like you to have so settle for less if it means that you will get a wider angle on the other end of the spectrum.
If you are buying a DSLR, you are likely doing it because you want to shoot some sporting events with your kids. Consider getting 2 lenses. A short zoom – like 24-70mm (35mm equivalent**), and a longer zoom 70-200mm (or even 300mm); these are the two that I carry, and they have served me well for 20 years! Just remember though, the longer the range the more likely the glass quality will go down.
*These days fixed focal length lenses are often referred to as "prime" lenses. I don't know when that happened.
**35mm equivalent: this is what the result would look like if your camera has a full frame sensor or is a 35mm film camera. Most cameras are NOT full frame sensors and therefore have a "crop factor"; since it seems to vary from camera to camera to make sure that everyone is one the same page we talk in "35mm equivalent" so that we are comparing apples to apples. So when you are looking at two different cameras from two different manufacturers, you should ask what the 35mm equivalent is, because a 28-100mm on a Canon point and shoot may not the same as a 28-100mm on a Nikon and they would certainly not look the same if you mounted them on a full frame sensor camera. To do the conversion check out this website: http://www.digified.net/focallength/