Fourth day in Istanbul. First take a look at the video clip below. It's not a floating restaurant it's a floating kitchen! Look closely, I'm not rocking the camera it's the boat that's rocking. On the left of the boat you see the still dock! Man, do these guys deserve a tip or what? They're grilling up fish sandwiches and they are grilling them up as fast as they can! There are actually three boats next to one another and they all seem to be sellinng them just as fast. This is crazy! and if you were wondering, the sandwiches were great!

Download Video fishfood
Notice the guy in the middle with his hand next to his face? He's talking on the phone!

Download Video Istanbul 2
Fast forward this one to the middle of the clip.
On to the rest of the trip. Well I got over the jet lag right away – yipper! And I'm enjoying my time here in Turkey. My first impressions? I have come to find that it is a place where East and West actually melt together. As I ride the train during rush hour I see the evidence in the faces of the commuters. You can see the greek, the roman, the middle eastern and eastern european blood in these faces. And these Turk faces? They are definitely a group with very…. shall we say three dimensional facial features? It is also a predominantly  caucasian group (like 99%), so I get a decent number of stares when I'm on the train. The melting pot is also evident in every part of the culture: food, dress, architecture and music too. I find it interesting to see the architectural similarities with India as well. It has become very obvious that Turkey was a major part of the silk road.
So unlike visiting the rest of Europe where it's one cathedral/church after another, or East Asia where it's one buddhist temple after another, here it's one mosque after another. They are everywhere, I guess when you have to pray 5 times a day…Â  Speaking of which today I got to see the footprint, the sword and I kid you not, clippings from the beard of the Prophet. And in the room next door I saw the right arm and part of the skull of John the Baptist. Unfortunately there will be no accompanying photos to evidence what I witnessed today, as photography was forbidden, so you will have to take my word for it.
---
---
Tonight it's off to ISTANBUL, TURKEY! After spending a lot of time traveling to Asia over the past several years, I decided enough was enough. So it's Eastern Europe and….. Asia. But at least it's Western Asia right? I can't wait to see what's in store!


---
---
All I want is a horizontal space.
UGGG. I have bragged forever that I have no problems sleeping on a plane… well that came to an end last night. It was a 10 hour flight and I got less than 3 hours of sleep. We left JFK at 6 pm local time to arrive around 9 am in Istanbul. The hotel let us check in early and when I got into the room I layed down on the bed. Ohhh that nice clean white fluffy comforter felt soooo good! All I wanted to do was to stay in my horizontal position for a while. My body screamed for me to just lay still in this position for a while! AND it was raining hard outside; the idea of running around in the rain while my body begged me for this bed was painful!
Alas I managed to have breakfast, go to the grocery store, visit the very impressive Blue Mosque, a Museum and have dinner and return to the hotel by 6. Now it's a fight to stay awake until about 10 as to actually beat the jet lag. But I don't think i'm going to make it!   uggg.
Here's the view from the hotel room.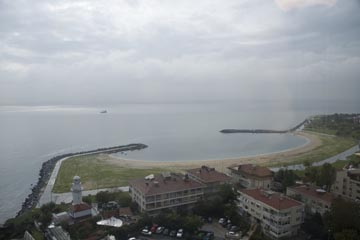 ---
---
Although I love living here in NYC, I do love the great weather and the people in Cal. It was great to see lots of friends and to reconnect with people.
On Saturday I "had" to shoot a wedding. It was really beautiful, I can't say enough about it. Most photographers hate weddings but I love them. I love them for what they represent and because it is just an all around happy occasion. And to "have" to shoot one in So Cal at the hilton over looking the ocean where some really great food was being served…. gee you won't see me complaining! Here's a picture of the happy couple! Congrats to Greg and Jeanne! yeaaaah.
---
---
After arriving and stopping at my favorite vegetarian restaurant yesterday it was off to see some friends. Last night I stopped at one of my favorite places in the whole wide world: Laguna Beach!
---
---
Finally a real trip! This weekend I'm flying off to California. I'll get about 2 days of RR and then I have to shoot a job on Saturday (a wedding on the beach – poor me!). Then it's off to Turkey in 2 weeks!
More from California soon!
---
---
Posted: 25 September 2008 . / Categories:

Next Event
After doing this show about a half dozen times, I have come to realize that although the day always starts out with threatening weather it generally ends up quite nice. A fun one day event with lots of food and music and of course ART! Join me for the Hoboken Arts Festival in Hoboken, NJ. You can take the PATH train from NYC if you want, it really is a rather convenient commute.
---
---
Posted: 18 September 2008 . / Categories:

Photo Tips
Remember Uncle Arnie from No Wheresville who, for whatever reason, accompanied you and your family on that three day road trip to Vacation Hell in the heat of the summer? And he would insist on these family photos that would take a half hour to set up in front of that statue with the dead guy riding a horse while everyone melted under the blazing sun? And he had to use this crazy tripod and camera he had carried through the beaches of Normandy? So was it Uncle Arnie or was it your parents who did this?
It is from this type of experience that I advise everyone to more often than not: PUT THE CAMERA DOWN! Step away from the camera and forget about the pictures! Really you ask? Yes really. Most of us take pictures when we are out having fun; fun with our families or our friends; fun on vacation; fun hanging around the backyard. So why let the camera get in the way? Although a picture is worth a 1000 words, more often than not they ain't and besides every story gets bigger and more elaborate by the year. So put the camera down and enjoy yourself!
********follow-up*********
There seemed to be some questions about post #2 – Move Back. Some of you just didn't understand what I was talking about. The point was that you need to consider what you are taking a picture of. What's the point of focus? Is it the statue or is it the people in front of the statue? Most of the time it shouldn't be both. So sometimes you should move closer and at other times back. I can't tell you when you should do what, but the point is you need to decide, this will help get you much better pictures! But remember what I just said above, sometimes you need to just step away from the camera!
---
---
---
---
So this weekend it's time for one of my favorite shows: Sidewalk Arts Festival in Portland, ME. I love this show; everyone there seems so supportive of my work and I get to bring my partner along too.
It's just a one day show so get out there early folks!
---
---
---
---
WHAT? doesn't this contradict that last posting in June, you ask? No, here's why. Again many people ask me about buying a zoom lens but the problem are as follows: 1. they don't want to put out the money for a real zoom lens; and the cheap ones really don't do the job right, 2. It's just too big to lug that thing around everywhere; so people buy the thing and then end up leaving it at home. So then they are back to square one. In that last post I said "MOVE CLOSER" too often people are too far away when all they need to do is to take a few steps forward for a great photo.
BUT, and this is a big but. But, very often people will see something cool in the distance and they really want just that thing, BUT they don't have that expensive zoom lens I recommended and further more they don't have that hoover craft to get them there! So now what? STEP BACK AND CONSIDER THE WHOLE PICTURE! See the whole forest and make it work. I know this is easier said than done but… that's my best advice.
---
---
After a great show last weekend in Skokie, IL I flew back to home (NYC) on Sunday night. Although exhausting, it was worth going home to sleep in my own bed this week. Tomorrow I fly back to Chicago for Art at the Glen in Glenview, IL. Then the long drive home on Monday.
---
---
---
Finally a weekend in my own bed. I'll be at the Westport Outdoor Fine Arts Festival in Westport, CT this weekend. They've moved the location of the show over one street from where it used to be. So now we'll  be right next to the water! That should be nice.
---
---
After several years of doing this show I've learned the hard way that I oughta head out early, 'cause what is supposed to be a 2.5 hour drive can quickly become SIX! So tomorrow it's going to be an early start!  Stop by my booth at the Wickford Art Festival in Wickford, RI this weekend.
---
---
---
Another weekend another show! I'm headed off to the Manayunk Arts Festival near Philadelphia, PA this weekend. It's always a good time with lots of people and I hear the crab cakes are great! See ya there!
---
---