Well perhaps it's not such a great day in Argentina, but the fact that I finally arrived safe and sound I guess makes it a good day! After multiple delays I've arrived into a very modern Buenos Aires, albeit, cold and cloudy. My heart tells me I should climb into this wonderful looking bed and just relax but my mind tells me there is much to explore. So I am compromising and posting this blog instead.
Below are two pictures of flat Corbin. Corbin is a young friend who asked if the flat version of himself could travel with me on this trip, so I agreed. This is him at the Delta Sky lounge at La Guardia Airport and the second picture is him in the taxi just now on the way into Buenos Aires from the airport. You can anticipate seeing more of flat Corbin on this trip, why not right? Especially now that I have him wearing a Zim Photography uniform!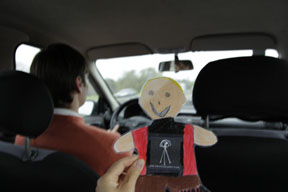 I suppose I have stalled enough and should start my day huh?
(I left my hotel soon after writing this post but since the internet was down I could not send it until now)